How to lock up electric scooter? Locking up an e-scooter can be a challenge, as they are often left in public places and have chances to be taken away. So, you need to know the best way to lock an e-scooter, whether at your house or outside.
Here, not only do we discuss where and how to lock the electric scooter but also the types of locks best for your scooter type. Jump in to get the tips to lock up your e-scooter safely.
How to Lock Up Electric Scooter: 7 Important Tips!
Ever wondered how to protect electric scooter from theft? Yes, with locks. But how do you lock them? Locking up the electric scooter is an important part of ensuring your e-scooter safety. Here is a quick checklist to lock up the electric scooter safely.
Use the smallest, toughest, and tightest lock.
Lock the e-scooter with something solid, stable, and sturdy.
Make it more inconvenient for the intruder.
Keep the lock off the ground, preventing it from smashing.
Use a loud alarm.
Apps lock the scooter.
Any lock is vulnerable with the right tool. The best locking tips will help you to lock your scooter and prevent theft and deter the thief away. Here we are elaborating on them.
1. Try A Combination Of Chain And Lock
This is the utmost security you can provide to secure your electric scooter while you are away. You can secure it with a metal chain and an additional lock to a fixed object, such as an e-scooter stand or a bike rack.
2. Use A U-lock
This is another option that is quite secure. Since U-locks are almost unbreakable, you can use a U-lock to lock the front wheel of your scooter to a fixed object. Then it becomes difficult to steal your e-scooter because they would need to break the U-lock in order to do so.
3. Hide The Scooter
Keep your scooter away from the eyes of the crowd. If you do not have a security system along with you, then it is not wise to keep your e-scooter in an open place.
4. Incorporate An Alarm
An alarm can be integrated with other locks to make a stronger locking mechanism for your electric scooter. You will find alarms designed for motorbikes and mopeds that are very suitable for e-scooters. The loud noise of the alarm catches attention from around and prevents theft. You can use it as it is, or you can incorporate it with a lock from the list below.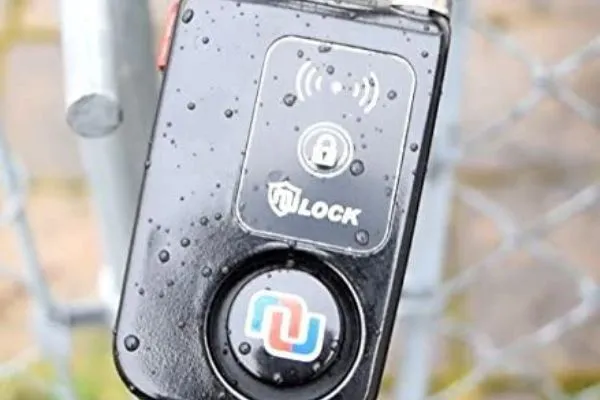 5. Lock With Something Solid
Lock the scooter to a solid object. If you're locking up your scooter outside, make sure to lock it to a solid object that can't be easily cut or broken. A light pole or fence is a good option.
6. Make It Inconvenient
Make it difficult to move. If you have to leave the scooter outside, make it as difficult as possible to move. Lock the front wheel or remove the battery. Also, keep the lock off the ground so that no one can smash it.
7. Take The Removable Parts Away
Many e-scooters have removable accessories, like- a seat, seat stand, removable handlebars, etc. Take all the removable parties along with you for extra precaution. Do this whether you are leaving for a while or longer because it takes a few seconds for the thief to steal them.
E-scooter Lock Types For Your Kick Scooter
Some of the most common types include chain locks, U-locks, and combination locks. Each has its own advantages and disadvantages. Therefore, it's important to pick the best lock for your e-scooter. Let's see which one of the following fits your needs according to the type of scooter you own.
Cable Lock
Cable locks are a less secure option, but it is still better than nothing. They are mostly used for bicycles. You can use this flexible lock to attach the scooter to a solid construction. It will be difficult to steal, but it is not impossible.
The cable is not that heavy. So, you can carry it on the e-scooter or in your bag. It is also quite affordable. One big downside of the cable lock is that it can be cut using a simple wirecutter. Therefore, it can not prevent professional thieves from stealing.
Ring Lock
Most ring locks come with a cable lock option. So, you get added protection and additional cable to lock up your e-scooter well. If your e-scooter has open spokes, then this lock is a good option for you. A ring lock is much stronger than a simple cable lock.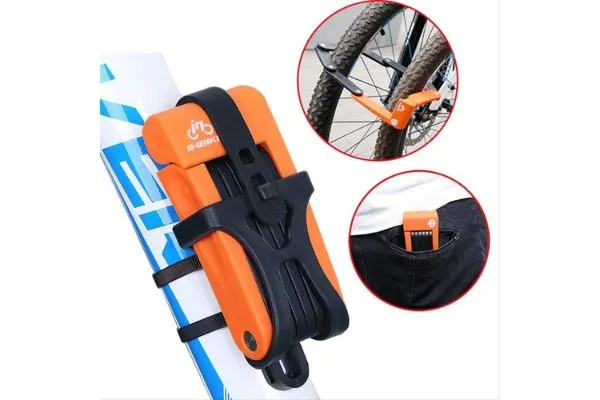 It is an anti-theft device that can secure your e-scooter pretty well from being stolen. The lock is easy to use and can be fitted to most scooters. It is also weather-resistant and comes with a key for added security.
Chain lock
How to lock a scooter with a chain? Chain locks are convenient to use and provide better security to your e-scooter than a cable lock, though the usage is pretty much the same as cable locks. In a chain lock series of chains that secures the scooter to bike stands, poles, tree trunks, rods, etc. The chain is covered to prevent rust and damage.
In addition to that, it is not easily cuttable using simple wire cutters. However, it may not bear the pressure of a hacksaw or bolt cutters. And Sold Secure gave it a "Silver" ranking. So, there is a chance of a security breach. And they are comparatively heavy to carry around.
U-lock & D-lock
Even though U-locks are not as versatile as chain locks, they are a lighter option to secure the e-scooter safely. They are also known as D-lock in some parts of the world, like- UK. They feature a D or U-shaped shackle.
This compact lock is made of either steel or aluminum alloy. Therefore, with this lock, your e-scooter is not easily accessible to a bike thief without a specialized tool or bolt cutter. U-locks should be used through the main chassis of the scooter for best safety.
These locks have a unique design to prevent cutting or breaking. You can easily carry them around. Although this lock comes in different sizes, in most cases, you can't use it with thicker or larger posts or trees. However, you can use additional locks, z-lock, chain, or chain locks for extra protection.
Combination locks are basically U-locks with a security pin. To reset the pin in a combo lock, you would have to know the current pin. So, it is difficult for the burglar to steal it. These are convenient locks with a compact and lightweight design. They are compatible with various pole sizes to lock the e-scooter with.
Moped Locks
Moped locks are specially made for motorcycles and mopeds. These locks are preferable for high-risk areas since they have an upgraded security system.
Disc Lock
Disc locks are basically attached to the wheel of the scooter and prevent it from moving. E-scooters that have a brake caliper, you can use a disc lock to lock it up.
Where To Lock An Electric Scooter?
As the popularity of electric scooters grows, so does the debate over where to park and lock them up. Some argue that they should be allowed to park on sidewalks, while others say they should be relegated to bike racks. But how to lock a scooter to a bike rack? And more importantly, where should you lock up your electric scooter? These tips will help you to lock up the scooter in a secure place.
Once you have found a spot, make sure to check for any potential hazards that could damage your scooter. 
Park the scooter in public and use a lock if you have one. Any potential thief would not feel comfortable stealing in public. 
Or keep the scooter out of sight. Try to keep the scooter out of sight from would-be thieves. This might mean locking it up in a garage or shed.
What To Consider When Locking Up An E-Scooter?
There are a few notable factors to consider when looking for a place to lock your electric scooters, such as accessibility, security, and weather.
Accessibility is important because you want to be able to easily get to your scooter when you need it.
Security is important because you want to make sure your scooter is safe from theft or vandalism.
Weather is also a factor to consider, as you want to make sure your scooter is protected from the elements.
Try to follow all these tips to keep your electric scooter safe from thieves.
FAQ
Can you lock your electric scooter?
Of course! You can lock your e-scooter to keep it secure and prevent theft and sabotage. In the market, you may find different types of locking mechanisms, and there are even apps that help to secure the e-scooter properly. Depending on the e-scooter type you have, you can pick a lock from a variety of options. But make sure that it gives the best security service.
How do I lock my scooter from being stolen?
It mainly depends on the type of e-scooter you have. If you own a folding e-scooter, you can fold and lock it up with a chain or cable lock to the frame. And if you have a non-folding one, you can lock it to the frame or to the wheel. Built-in electronic alarms are also useful to keep thieves away. And the high-security U-locks are best for security and convenience. You can secure your electric scooter with a U-lock around a bicycle stand, locking around the wheel and frame in a way that it cannot be undone without the key.
How do I lock my electric scooter app?
Most advanced e-scooters have a digital security system where you can use an app to lock and unlock the e-scooter. It is connected to your phone with Bluetooth. And you can lock and unlock your e-scooter with just a tap on that app settings. Now, nobody can use it unless you unlock it, and if they try, it will create a loud alarm.
Final Thoughts
How to lock up electric scooter? Locking your electric scooter is important to prevent theft and vandalism. While unattended, your scooter has the risk of being taken away. You may find a handful of options in the market, but the best one has to be compact and full-proof. You should invest in a good-quality lock, whether a chain, cable or U-lock. Whichever you choose, ensure the lock is properly secured to the scooter so that it cannot be easily cut, broken, or removed.