To pay for a lime scooter, simply download the lime app, create an account, locate a nearby scooter, and use the app to unlock and pay for your ride. Lime scooters have gained popularity as an affordable and convenient mode of transportation in many cities around the world.
Whether you're a tourist exploring a new place or a local resident needing a quick ride, lime scooters offer a great solution. To access these electric scooters, all you need is a smartphone and the lime app. With just a few taps on your screen, you can easily locate and unlock a nearby lime scooter.
But how do you pay for your ride? We will dive into all the different options available to pay for lime scooters, allowing you to choose the method that suits you best.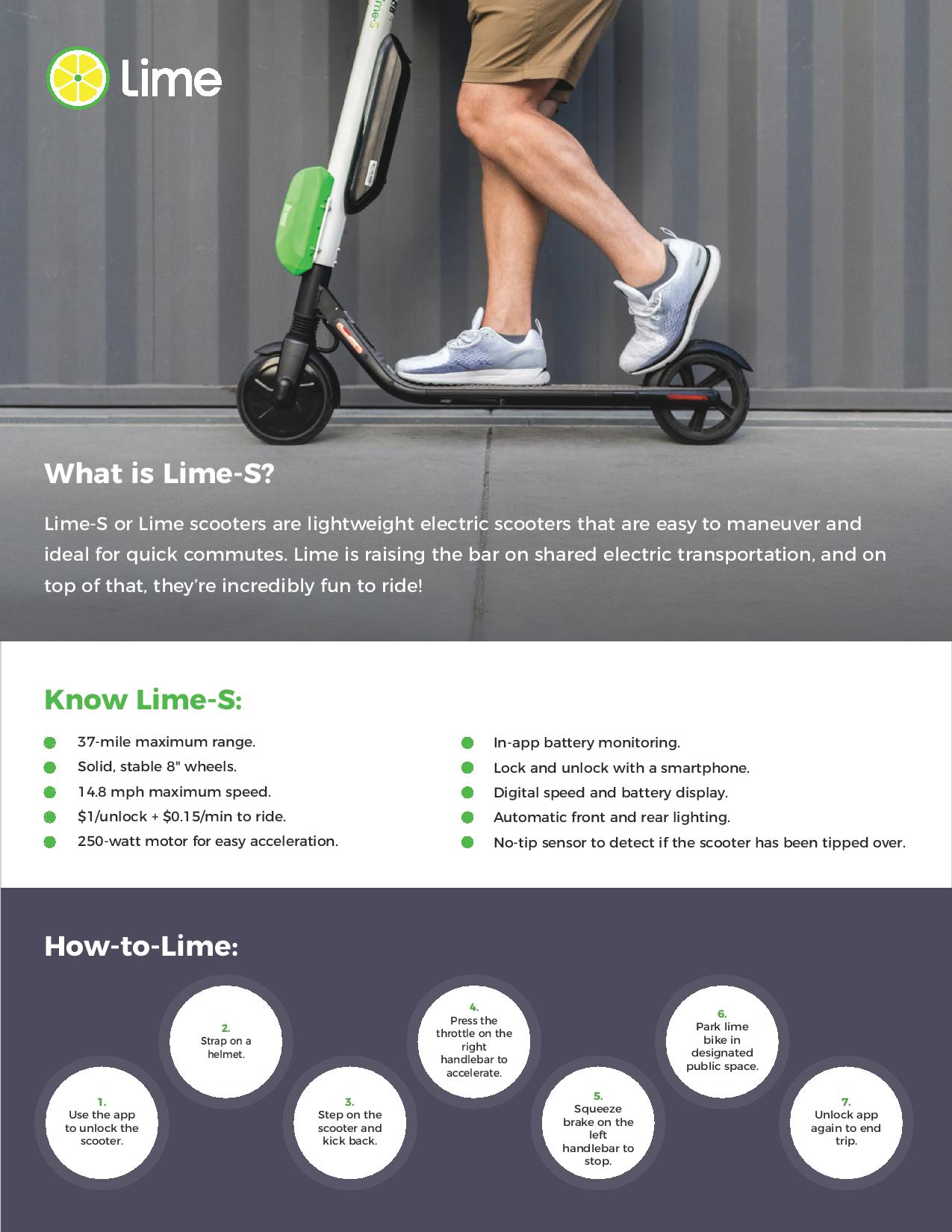 Credit: www.chatsworthcouncil.org
1. Lime Scooter Payment Methods
Lime scooters have become a popular mode of transportation in many urban areas. They offer a convenient, eco-friendly way to zip around town. But how do you pay for your lime scooter rides? In this section, we'll explore the various payment methods available for lime scooters.
Mobile Payment Options For Lime Scooter Rides
Apple pay: Link your apple pay account to your lime app for seamless payment.
Google pay: If you're an android user, simply set up google pay and connect it to your lime account.
Paypal: Experience hassle-free payments by linking your paypal account to lime.
Venmo: The popular payment platform venmo can also be connected to your lime app.
Linking Credit Or Debit Cards To Your Lime Account
Credit card: Add your credit card details on the lime app for quick and easy payments.
Debit card: Link your debit card to your lime account to make payments directly.
Using Lime Promo Codes Or Vouchers For Discounted Rides
Lime promo codes: Look out for promotional codes from lime, which can be entered during the payment process for discounted rides.
Vouchers: Lime occasionally offers vouchers that can be applied to your account, providing savings on your scooter rides.
As you can see, there are several convenient payment methods available for lime scooter rides. Whether you prefer using mobile payment options, linking your credit or debit cards, or taking advantage of promo codes and vouchers, lime ensures a seamless payment experience.
So hop on a lime scooter and enjoy your ride!
2. Adding And Managing Payment Options In The Lime App
Step-By-Step Guide To Adding Payment Options In The Lime App:
Open the lime app on your smartphone and log in to your account.
Tap on the menu icon in the top left corner of the screen to access the main menu.
Scroll down and select "wallet" from the list of options.
Under the "payment methods" section, tap on the "add new payment" button.
Choose your preferred payment option from the available choices, such as credit/debit card or mobile payment services.
Enter the required information for the selected payment method, including card details or account information.
Review the entered information to ensure accuracy, then tap on the "save" or "add" button.
Congratulations! You have successfully added a new payment option to your lime app.
Updating Or Removing Payment Methods:
Open the lime app and navigate to the menu by tapping on the menu icon.
Select "wallet" from the menu options.
Scroll down to the "payment methods" section and tap on the desired payment method you wish to update or remove.
To update a payment method, tap on the "edit" or "update" option and make the necessary changes.
To remove a payment method, tap on the "delete" or "remove" option and confirm your decision when prompted.
You can repeat these steps to update or remove multiple payment methods as needed.
Setting A Default Payment Method For Convenient Checkout:
Open the lime app and access the main menu.
Tap on "wallet" to go to the payment settings.
Scroll down to the "payment methods" section and locate the payment method you want to set as default.
Tap on the payment method and look for the option to set it as the default method.
Enable the "default" or "set as default" toggle button to make this payment method the default option for future transactions.
Having a default payment method in place ensures a seamless and convenient checkout experience.
By following these step-by-step instructions, you can easily add, update, and manage your payment options within the lime app. Whether you need to add a new payment method, make changes to existing ones, or set a default payment method, the lime app offers a user-friendly interface to help you manage your payment preferences effortlessly.
3. Troubleshooting Payment Issues With Lime Scooters
Common Payment Problems And Their Solutions:
Payment decline: If your payment is being declined, double-check that your payment method is valid and has sufficient funds. Alternatively, try using a different payment method to see if the issue persists. Ensure that your card details are correctly entered and up to date.
Mismatched card information: Make sure that the card information entered on the lime app matches the information associated with your payment method. Any discrepancies can lead to payment failures.
Expired card: If the credit card you have on file has expired, you will need to update your payment information with a valid card to continue using lime scooters without any interruptions.
Transaction errors: Occasionally, technical glitches may occur during payment processing. If you encounter any errors or inconsistencies, try restarting the app and attempting the transaction again. If the problem persists, contact lime support for assistance.
Contacting Lime Support For Payment-Related Issues:
If you have exhausted troubleshooting options on your own, reaching out to lime support can provide you with the guidance you need. Follow these steps to get in touch with their support team:
Open the lime app and navigate to the help section.
Choose the relevant topic, such as "payments & promos."
Select the specific issue you are facing or scroll to find a related topic.
Check if the app provides any self-help resources or faqs. If not, proceed to the next step.
Tap on "contact us" or "submit a request" to reach out to lime support directly.
Fill out the necessary details, including your payment issue and any relevant information.
Submit your request and wait for a response from lime's support team. They will assist you in resolving your payment-related problem.
Ensuring Secure And Efficient Transactions On The Lime App:
To have a secure and hassle-free payment experience on the lime app, consider the following tips:
Keep your app and device up to date: Regularly update the lime app and ensure that your mobile device's operating system is on the latest version. This helps in optimizing the app's performance and security.
Use a secure wi-fi network: When making payments through the lime app, always connect to a trusted and secure wi-fi network. Avoid using public wi-fi networks, which can pose security risks.
Enable two-factor authentication: Protect your lime account by enabling two-factor authentication. This adds an extra layer of security and ensures that only you can access and make payments using your account.
Monitor your transactions: Regularly review your lime app transaction history to identify any unauthorized or suspicious charges. If you notice any discrepancies, report them to lime support immediately.
Contact lime support for security concerns: If you suspect any fraudulent activity or have concerns about the security of your payment information, contact lime support promptly. They can help investigate and resolve any security-related issues.
By following these troubleshooting tips and taking necessary precautions, you can easily overcome payment problems, contact lime support when needed, and enjoy secure and efficient transactions on the lime app.
Frequently Asked Questions Of How To Pay For Lime Scooter
How Can I Pay For A Lime Scooter?
You can pay for a lime scooter using the lime app on your smartphone. Simply add your preferred payment method and follow the instructions to complete your transaction.
What Payment Methods Are Accepted For Lime Scooters?
Lime accepts various payment methods, including credit cards and debit cards linked to major payment networks like visa, mastercard, and american express.
Can I Use A Prepaid Card To Pay For A Lime Scooter?
Yes, you can use a prepaid card to pay for a lime scooter as long as it is linked to a major payment network like visa, mastercard, or american express. Ensure that your prepaid card has sufficient funds before renting a lime scooter.
Is It Safe To Enter My Payment Information In The Lime App?
Lime takes privacy and security seriously. The lime app is designed with encryption technology to protect your payment information. It is generally safe to enter your payment details in the app, but it is always recommended to use secure wi-fi networks and keep your smartphone software up to date.
Are There Any Additional Fees When Paying For A Lime Scooter?
In addition to the rental fee, lime may charge a temporary deposit or hold on your payment method as a security measure. This amount is typically refunded once you end your ride, with any applicable charges deducted. Please check the lime app or website for specific details related to fees and charges.
Conclusion
To successfully pay for lime scooters, it is essential to explore the available payment options and choose the one that best suits your needs. Whether you prefer using a credit card or an app like apple pay or google pay, make sure to link your preferred payment method before you hop on a lime scooter.
It is also wise to keep track of your transactions to ensure accurate billing and avoid any surprises on your bank statement. Additionally, consulting the lime website or contacting their customer support can provide further assistance if you encounter any payment-related issues.
Remember, paying for lime scooters is a seamless process that can be easily done through various convenient methods. So, go ahead and embrace the simplicity of electronic payments when you ride a lime scooter, keeping both your transportation and finances in harmony.